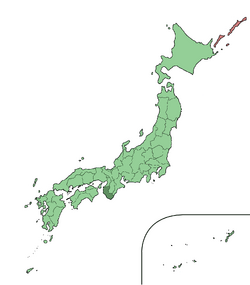 Wakayama Prefecture (和歌山県, Wakayama-ken?) is located on the southern coast of Honshu island.
Cities, towns and villages
[
]

If your home town is not listed, please edit this section and add it to the list!

If your home town shows up as a red link, then the article does not yet exist. To create it, type the town name in the box and click "Create article".

<createbox>
 preload=Template:Local knowledge
editintro=Template:New local knowledge article help text
width=25

</createbox>

The following is a list of places in Wakayama Prefecture where JETs are placed.
Wakayama

Shingu

Tanabe

Kamitonda

Kainan

Gobo

Hidakagawa

Kushimoto

Arida

Nachikatsuura

Susami
External links
[
]