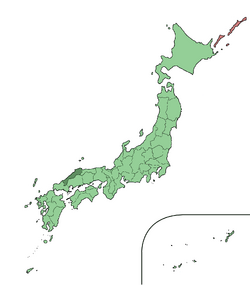 Shimane Prefecture (島根県, Shimane-ken?) is located on the northern coast of western Honshu.
It is the second-least populated prefecture in Japan after it's neighbour, Tottori.
Shimane has a large and active JET community of around 70 JETs. Shimane AJET is known nationally for it's fantastic events and close knit community.
Shimane despite it's rather wet climate enjoys slightly cooler summers and warmer winters than much of Honshu. Shimane has some stunning scenery from snow-peaked mountains to sandy beaches.
Cities, towns and villages
The following is a list of places in Shimane Prefecture where JETs are placed.
Yasugi

Izumo

Unnan

Okuizumo

Oda

Gotsu

Kawamoto

Hamada

Masuda

Tsuwano

Ohnan

Misato

Iinan
If your home town is not listed, please edit this section and add it to the list!
If your home town shows up as a red link, then the article does not yet exist. To create it, type the town name in the box and click "Create article".
<createbox>
 preload=Template:Local knowledge
editintro=Template:New local knowledge article help text
width=25

</createbox>
External links
Shimane AJET Facebook Page - The official page for Shimane AJET. Check it out for events and discussions about living in the prefecture.
Shimane PA Resources - Official Shimane JET website. Blog maintained by the Shimane Prefectural Advisors. This site showcases the different areas in Shimane with some beautiful photographs, and includes information on the Shimane AJET Scholarship. Its main purpose though is its useful information on health and safety, driving, dates of upcoming events, and more!