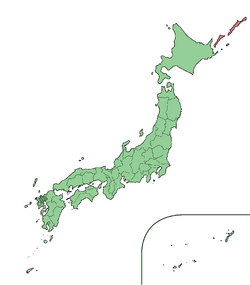 Saga Prefecture (佐賀県, Saga-ken?) is located in the west of Kyushu island.
Cities, towns and villages
[
]
The following is a list of places in Saga Prefecture where JETs are placed.

If your home town is not listed, please edit this section and add it to the list!
If your home town shows up as a red link, then the article does not yet exist. To create it, type the town name in the box and click "Create article".
<createbox>
 preload=Template:Local knowledge
editintro=Template:New local knowledge article help text
width=25

</createbox>
External links
[
]
Sagajet.com - Official AJET website. Currently the forums are most active. If you want to post, please fill out the registration in some detailed way. The webmasters delete a lot of spam registrations each day and need to be able to spot you. If your account gets accidentally deleted, just re-register.