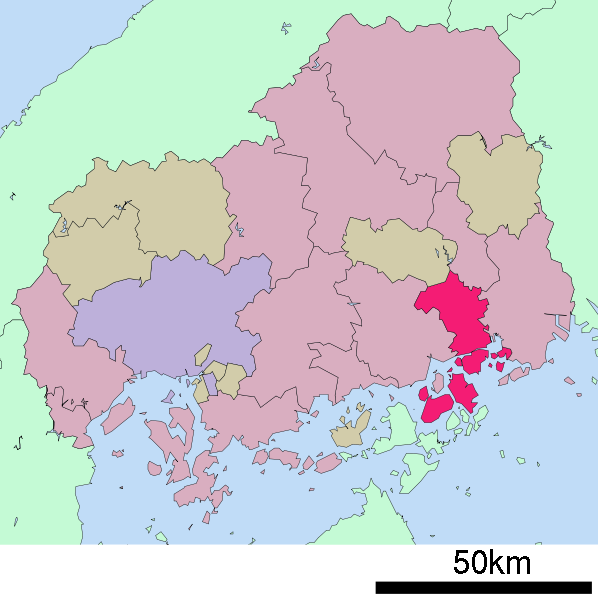 Onomichi (尾道市, Onomichi-shi?), situated in southeastern Hiroshima Prefecture, faces the Seto Inland Sea and stretches out from east to west. It is a scenic port town with a population of about 15,000 people, and has thrived as a center for marine traffic in the Seto Inland Sea.  With a wide variety of restaurants and sites to see, it's a very popular place to visit and a great place to live. 
Transportation
Edit
Getting in
Edit
To/from the airport
Edit
From Hiroshima International Airport Onomichi can be reached by bus and it takes about 45 minutes.
Onomichi is located on the Sanyo train line between Mihara and Fukuyama. By local train it takes about 1hr30min to Hiroshima city. There is a shinkansen station (Shin-Onomichi) in Onomichi but it is far away from the local train line so I would suggest taking the shinkansen from Mihara or Fukuyama.
The bus terminal in Onomichi is located directly in front of the Onomichi train station.  There are a number of buses that can take you around the city itself.  As well, there are buses that will take you to the neighboring islands on the Seto Inland Sea, including Mukaishima and Innoshima.  You can use the buses to travel to bigger cities like Hiroshima, Fukuyama, and even Osaka. 
Onomichi is located along the highway, Route 2, which runs along the coast of Eastern Hiroshima.  Route 2 will take you directly through Mihara, Onomichi, and Fukuyama.  To get to Hiroshima by car, you can take the Sanyo Expressway which is the nearest expressway to Onomichi.  You can also take the Sanyo Expressway north to get to the Kansai region.
Onomichi has multiple ferries that will take you to one of the many islands located in the Seto Inland Sea.  Each ferry port is located in close proximity of Onomichi Station.  These ferries will accommodate cars and bikes.
JET placements
Edit
Incoming/Outgoing JETs
Edit
Foreign community
Edit
Sightseeing
Edit
Places to visit
Edit
Senko-ji Park (千光寺公園) 尾道市西土堂町19 - The park rises up over 130 meters above the city which is high enough to see far out into the Seto Inland Sea on a clear day. The Path of Literature on the hill contains stones carved with the words of famous poets and authors. There is a cable car to the top and a lookout tower. Over 10,000 cherry trees are planted in the park so it is a popular destination for cherry blossom viewing when they bloom.
Temple Walk (古寺めぐりコース) 尾道市西土堂町9-2 - Onomichi is famed for its temple walk. Fans of famed locally born director, Nobuhiko Obayashi, love to take off and walk around for an entire day visiting all the temples that were featured in his films. Most people walk around the temples and buildings on Senko-ji hill which is east of JR's Onomichi Station.
Onomichi Motion Picture Museum - Not in English, but very interesting to look at.
Festivals
Edit
Betchya Festival - early November. Young men in demon costumes terrorize young children with large bamboo sticks. If they are lucky enough to be beaten with a bamboo stick, they are then protected from illness for the rest of the year. It is held at Kibitsu-hiko Shrine and Onomichi waterfront area.
Onomichi Minato Port Festival - 4th Saturday and Sunday in April. In front of the station and along the shopping arcade you will find plenty of stuff to buy and eat. There is a massive dance competition held on the water front. Saturday is for companies and private groups. On Sunday Elementary and Junior High schools dance it out for top prize.
Onomichi Sumiyoshi Fireworks Festival - The first Saturday of August. Thousands of fireworks explode over the harbour.
Onomichi has a three-section Shotengai (covered shopping street), which is conveniently located to the east of Onomichi station. It is packed full of shops, restaurants and cafes. Stores here tend to be more traditional and there are many great little shops for browsing and for picking up local crafts and souvenirs.
Supermarkets
Edit
Mitaniya (三谷屋門田プラザ店), 722-0017尾道市7-4門田町, 0848-21-2811, Located next to UFO, this supermarket has the widest range of vegetables in Onomichi.
Izumi, This is the most convenient supermarket in Onomichi as it is open until 11pm and has a wide variety of food at reasonable prices.
Ebirii (エブリイ尾道新浜店), 尾道市新浜1丁目7-9, 0848-36-6111, [1]. Discount grocery store next to Kappa Sushi. Prices are low but the produce isn't always as fresh as Aeon or Izumi. Also, unlike most grocery stores, Ebiri does not stock alcohol of any kind.
Department stores
Edit
Aeon (イオン尾道店), 尾道市天満町17-23, 0848-23-3100, [2]. A department store with supermarket on the first floor. They have the biggest selection in Onomichi. Open until 9pm.
Fukuya (尾道福屋), 尾道市東御所町1番10号, 0848-21-1500, [3]. A department store next to Onomichi station. It has a small range of import foods downstairs. It tends to be the most expensive place for groceries but is your best bet for less standard produce and food products.
Home & Garden stores
Edit
UFO (ユーホー尾道店), 尾道市門田町7-4, 0848-25-3361, Sells a wide range of goods for your apartment and probably the only decent, affordable place to buy a bicycle in town.
Book shops
Edit
Shop name here, Description here
Electronics
Edit
Edion (エディオン尾道店), 尾道市天満町15-16, 0848-23-2128, [4]. Caters to all your electronic needs. You will find it at the bottom of Route 184 near the train tracks. If you can't find what you're looking for, try the Yamada Denki in Higashi-Hiroshima City.
UNIQLO (ユニクロ東尾道店), 尾道市高須町字西新涯5766-1, 0848-56-2077, Located in Higashi-Onomichi, just to the southeast of the station. Uniqlo is a great place to pick up fairly priced clothing that actually fits.
Imagawa Gyokukoen Chaho (今川玉香園茶舗), (尾道市久保1-6-8), [5]. With over 80 kinds of Japanese tea and tea ceremony paraphernalia, this is a tea drinker`s paradise. Opened in 1878, Imagawa Tomohiro is the 5th generation of his family to operate the shop. The shop is located down a narrow street just south of the end of third section of the shoten gai. Look for the black cat hanging curtain. Imagawa tea products are also available at several omiyage shops around town.Open every day from 9 – 7.
Uragami Saketen (浦上酒店), 尾道市土堂1丁目4-15, 0848-22-2952, A small liquor shop in the Shotengai run by a sweet little obaa-chan. Uragami san keeps her shop filled with a good selection of Chugoko region nihonshu, shochu, and umeshu, as well as beer and spirits. Look for the stacks of Asahi Beer out front.
Reikodo (れいこう堂), 尾道市西土堂町1−16, [6]. A small record shop located at the north exit of Onomichi Station. This shop specializes in independent Japanese music and the owner also organizes live shows around town. The shop is easy to spot due to the giant cat painting over the entrance.
Oda Sakeya (おだ酒屋店), 尾道市小浜町2-45, 0848-22-5305, Another excellent liquor shop. It is a bit of a trek from the station but it has a fine selection of nihonshu available. The shop also stocks an excellent green tea umeshu from Wakayama. The owners are very friendly and make wonderful recommendations if you aren't sure what you want.
Coffee & Tea
Edit
Chaider (チャイサロンドラゴン), 尾道市土堂1丁目9−14, 0848-24-9889, [7]. A cool Chai shop run by husband and wife duo, Hiro and Tamako. Try Chaider's original Chaider and Carp Chaider drinks, made with green tea and cider. Hiro and Tamako also make unique Onomichi omiyage and have a wealth of knowledge on what to see in do in town. Both speak excellent English. Follow the Shotengai for 100 metres, turn right down a little side street. The bright orange shop front can't be missed.
Paraiso (パライソ珈琲), 尾道市東御所町3-13 2F, 090-2002-4912, [8]. Funky coffee shop with a warm eclectic atmosphere and cool, chilled out music. Comfortable chairs and art books to browse make it a great place to waste your time. Open from 1-10pm. It's the first building in the shotengai above the Discount Ticket Shop.
Classico (クラシコ), 尾道市土堂1丁目3−28, 0848-24-5158, [9]. This is a brand new coffee shop in the shotengai serving up gourmet coffee and cakes. Classico is located in the first section of the shotengai.
Japanese Food
Edit
Yamaneko (やまねこカフェ), 尾道市土堂2-9-33, 0848-21-5355, The best place for food in all of Onomichi. Yamaneko features a mix of westerner and Japanese style meals, including the ever popular "yamaneko" lunch set, all at reasonable prices. The restaurant has a very laid back atmosphere with chilled music and rotating art exhibits. The staff is incredibly friendly. Though they speak little English, the staff is used to catering to foreign clientele. When you exit the station, head left along the seaside road for about 10 minutes.
Foreign Food
Edit
Fandango (ファンダンゴ), 尾道市新浜1丁目2−17, 0848-23-7272, [10]. A fantastic Italian restaurant with proper thin crust style pizza and delicious pastas. The small patio is great in the summer. It is about a 5 minute walk west of the station; next to Lawsons and the Keibunsha.
Borracho (ボラーチョ), 尾道市土堂1丁目4−14, 0848-23-8951, Located in the Shotengai, Borracho is a Spanish Tapas restaurant. The food and selection of drinks is great but it can bit a bit pricey. An excellent place to relax with friends or to go on a date. Look for the large red sign.
Bar name here, Description here
Yes Bar, [11]. Located above Paraiso, Yes Bar is a relaxing place for a drink with friends. The ever cool Eiji-san keeps his bar stocked with a wide variety of unique sodas and imported beers. Sit at the bar and have a chat about music with Eiji-san (he loves John Lennon) or head up to the roof top patio and lie back in the hammock. Open Saturdays, Sundays, and Mondays untils 9.
Saka Bar (カフェ サカ バー), 尾道市東土堂町19-27, 090-6529-1341, Saka Bar features an ever rotating list of Japanese and imported beers that are otherwise difficult to find. If beer isn't your game, it also has variety of mix drinks and good selection of whiskeys. The barman dabbles as a DJ and so he always has eclectic mix of tunes pumping out of a top notch sound system. To reach Saka Bar follow the path from the Ropeway station up towards Senkoji Temple for about 2-3 minutes. It is on your left.
Service name here, Description here
Post offices
Edit
Service name here, Description here
Medical facilities
Edit
Shiritsushimin Hospital (尾道市立市民病院), 尾道市新高山三丁目1170-177, 0848-47-1155, [12]. Go here if you have any kind of ailment. They always seem to have an English-speaking doctor on staff. You pay for your treatment before you leave the hospital, remember to take your national health care card. It's on Route 2 a little bit further down the road from Izumi.
Ear, Nose, Throat Clinic (こころ尾道駅前クリニック), 0848-36-5561, If you hate hospitals and know that you're suffering from the flu or other respiratory illness, this small clinic is a nice alternative that is conveniently located behind the station.
Hotta Women's Clinic (堀田レディースクリニック), 尾道市西則末町9番16号, 0848-22-8844, [13]. There are a few women's clinics around town. A fairly easy one to find is, Hotta Women's Clinic. To get there turn right after Himawari, northbound on Route 184.
Libraries
Edit
Service name here, Description here
Hair dressers
Edit
Service name here, Description here
Sports facilities
Edit
Bingo Sports Park (びんご運動公園), 尾道市栗原町997, 0848-48-5446, [14]. This is Onomichi's sports park. There is a swimming pool, gym, baseball stadium, running course and tennis. The gym is very cheap at around 350 yen per session. It's a fair hike up the mountain though if you are biking or walking. To get there go up 184 and turn left just after the Shinkansen station, its well marked.
Community Center
Edit
Hibisaki Community Center (尾道市役所日比崎公民館), 尾道市久保一丁目15-1, 0848-22-8732, [15]. There are very useful Japanese lessons held in the community center very near to Aeon. Volunteers give lessons from 7-8:30pm on Tuesdays and are 500 yen a month. It's open in accordance with the Japanese school year so it's closed over summer and starts again in September.
Travel agents
Edit
Service name here, Description here
External links
Edit
Community content is available under
CC-BY-SA
unless otherwise noted.