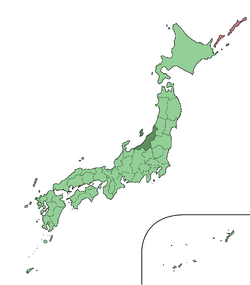 Niigata Prefecture (新潟県, Niigata-ken?) is located on the north coast of Honshu. Although it is technically part of the Chubu region, Niigata is often integrated with the Tohoku region, such as in public transportation routes in the north. It is in AJET Bloc 2 and is currently home to 102 JETs.
Cities, towns and villages
Edit
The following is a list of places in Niigata Prefecture where JETs are placed. Niigata AJET separates the towns into 6 different blocks.
Kaetsu Block
Edit
Niigata City Block
Edit
Chuetsu Block
Edit
Yukiguni Block
Edit
Joetsu (JIM) Block
Edit
Sado Block
Edit
If your home town is not listed, please edit this section and add it to the list!
If your home town shows up as a red link, then the article does not yet exist. To create it, type the town name in the box and click "Create article".
Transportation
Edit
Train Routes
Highways
ETC Toll Roads
Ferries
Community Service
Edit
The charity work in Niigata used to be processed through the Niigata International Charity Organization (NICO), but it has been disbanded. As of 2012, charity and community service has operated through Niigata AJET.
The largest charity program in AJET. The musical typically features an original show with ALTs and CIRs as cast and crew members. In 2017, they had 7 shows: Niigata City, Kariwa, Joetsu, Arakawa, Gosen, Tokamachi and Sado.
English Camps
Edit
Skills Auction
Edit
The first Skills Auction was held in the fall of 2013 in Niigata City. It was featured as a Bloc 2-wide event.
Known for
Edit
Niigata Rice
Anime and Manga
Snow, Skiing, and Snowboarding
Toki bird
External links
Edit
Community content is available under
CC-BY-SA
unless otherwise noted.