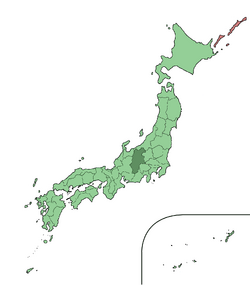 Nagano Prefecture (長野県, Nagano-ken?) is located in the centre of Honshu island. One of the only land-locked prefectures in Japan, Nagano nonetheless is home to many beautiful lakes and rivers, hiking trails, mountains, and outdoor onsens. Ample ski and snowboarding opportunities make this prefecture one of the most requested placements in Japan, though there's still plenty to do for those uninterested in winter sports. The Shinkansen (bullet train) network connects Nagano city and the eastern part of the prefecture with Tokyo and there are express train services that connect to Nagoya. 
Understand
[
]
Nagano is one of the largest blocks in the JET programme, with just under 80 JETs for the 2011-2012 year, along with a comparable number of other ALTs . It takes over four hours to drive from the southernmost to the northernmost towns in the prefecture. Nagano is also very mountainous, meaning road and rail networks are to some extent constricted to the prefectures numerous valleys.  Despite this, it is easy to connect with others if you chose to.
Because of such a large population and landscape, Nagano impliments a block system, wherein senior JETs in their block help to welcome the incomers, assit at meetings, submit bi-monthly block reports and organize a yearly prefecture-wide event in their own block. Currently, there are four blocks in the ken, divided along geographical and acessibility lines; north, south, east and central.
Alongside the block system NaganoAJET also holds regular events around the prefecture to bring people together and socialise. Nagano AJETs "Thanksgiving Dinner" is the biggest event in the year in terms of attendees, however they also hold a number of other equally popular cultural, and seasonal, events across the year. Finding Nagano AJET on social networks is also arguably the quickest way to connect with those currently living in Nagano, and get involved with life in the prefecture. 
Cities, towns and villages
[
]

If your home town is not listed, please edit this section and add it to the list!

If your home town shows up as a red link, then the article does not yet exist. To create it, type the town name in the box and click "Create article".

<createbox>
 preload=Template:Local knowledge
editintro=Template:New local knowledge article help text
width=25

</createbox>
The following is a list of places in Nagano Prefecture where JETs are placed.
Nagano

(capital)

Ueda

Ina

Hakuba

Saku

Komagane

Tatsuno

Azumino

Hata

Kiso

Iiyama

Nozawa Onsen

Nakano

Suzaka

Agematsu

Suwa

Okaya

Omachi

Nakagawa

Iijima

Minowa

Neba
Hiraya
Minamimaki
External links
[
]