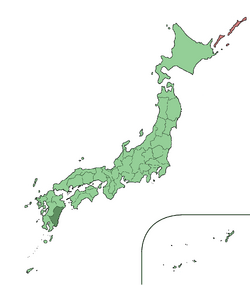 Miyazaki Prefecture (宮崎県, Miyazaki-ken?) is located on the south eastern coast of Kyushu island. It is the largest prefecture in Kyushu and the least populated. Most of the population and cities are located along the coast, or in the south, as the north and inland areas are especially mountainous. Miyazaki is known as one of the most tropical areas in Japan, likely only beat out by Kagoshima, which is due south of Miyazaki, and Okinawa. Miyazaki has one ski resort in the extreme north, in Gokasse town, and has a famous surfing beach in Hyuga. The largest city is Miyazaki city, which at a population of 300,000+, contaions 30% of the prefectures population. Nobeoka and Miyakonojo are next, each sitting around 50,000 people. Miyazaki is famous for mangos, which are often made into a juice sold all around Kyushu. The northern mountain regions are considered to be one of the most important areas in Japan for Shinto, and the birthplace of Shinto, so they hold special religious signifigance to many Japanese people. These regions are also known for their Kagura dances, which occur regularly all night, during the winter months. Lastly, Takachiho, in the north is home of Takachiho Gorge, one of more famous and beautiful sights in Kyushu.
Cities, towns and villages
Edit
The following is a list of places in Miyazaki Prefecture where JETs are placed.
Cities
Towns
Villages
If your home town is not listed, please edit this section and add it to the list!
If your home town shows up as a red link, then the article does not yet exist. To create it, type the town name in the box and click "Create article".
External links
Edit
Community content is available under
CC-BY-SA
unless otherwise noted.