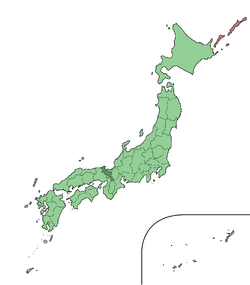 Kyoto Prefecture (京都府, Kyōto-fu?) is located in the centre of Honshu island.
Cities, towns and villages
[
]
The following is a list of places in Kyoto Prefecture where JETs are placed.
Ayabe
Fukuchiyama
Ine
Kameoka
Keihoku
Kyotanabe
Kyotamba
Kizugawa
Miyama
Miyazu
Sonobe
Uji
Yosano
If your home town is not listed, please edit this section and add it to the list!
If your home town shows up as a red link, then the article does not yet exist. To create it, type the town name in the box and click "Create article".
<createbox>
 preload=Template:Local knowledge
editintro=Template:New local knowledge article help text
width=25

</createbox>
External links
[
]