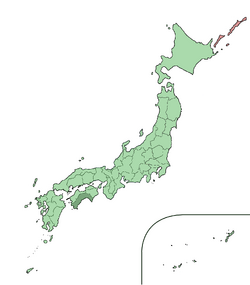 Kochi Prefecture (高知県 Kōchi-ken?) is located on the south of Shikoku island, along with 3 other prefectures: Ehime, Takamatsu and Kagawa. As of October 2010, Kochi Prefecture had a total population of 764,596 (with nearly half of that in Kochi City, the prefecture's major city). It is the largest but least populated prefecture in Shikoku.
Kochi Prefecture is the birthplace of several famous Japanese figures including Ryoma Sakamoto and Yanase Takahashi, the creator of Anpanman. Anpanman and Ryoma have their own museums in Kochi and appear everywhere throughout the prefecture.
Kochi Prefecture is known for it's beautiful natural scenery and it's clear, free-flowing rivers such as the Shimanto, soemtimes referred to as "the last clear stream in Japan." Kayaking and river floats are popular summer recreation in Kochi.
In mid-August, Kochi City hosts the Yosakoi festival. Teams from all over Japan come to compete and it is also possible for JETs to join international teams.
Kochi's speciality foods include yuzu (a tart citrus fruit) and katsuo no tataki (lighty seared skipjack tuna). Kochi residents are also known for their love and high tolerence of alcohol. Kochi women in particular are reputed to be the "best drinkers" in Japan.
Cities, towns and villages[]

If your home town is not listed, please edit this section and add it to the list!

If your home town shows up as a red link, then the article does not yet exist. To create it, type the town name in the box and click "Create article".

<createbox>
 preload=Template:Local knowledge
editintro=Template:New local knowledge article help text
width=25

</createbox>

The following is a list of places in Kochi Prefecture where JETs are placed.
Shimanto-cho
Niyodogawa-cho
Sukumo
Susaki
Tosa
Nakamura
Tosashimizu
Konan-shi
Umaji-mura
Yasuda
Tano
Nahari
Toyo-cho
Ino
Haruno
Geisei
Kitagawa
Kuroshio
Mihara
Otsuki
Motoyama
Otoyo
Nakatosa
Ochi
Sakawa
Tsuno
Okawa
External links[]