Time: 5-15min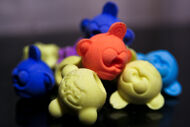 Information 
Textbook Links
None yet...
Resource Links
Flashcards
This is designed for Listening and Speaking and is good for Elementary school and Junior High.

This is a simple vocabulary review game. It is good as a warm up and as a way to learn new vocabulary too.
Materials Needed
[
]
Flashcards with the words to be practiced/learnt.
Contents
[
]
Get the students to get into pairs. Pairs join their tables together so they are facing each other. Place an eraser (Keshigomu) in the centre. Throw up a bunch of flashcards onto the blackboard (using magnets). If the words are new you might want to go through some of them first.
At the beginning of each round nominate a key word. When you say this word in the game the students should make a grab for the eraser. When you say any other word, they should just repeat what you said. This makes it listening and speaking.
Start a clapping beat. Count them in with four clicks, clap twice, say the word and they repeat the word. I guess it is a 3:4 beat. The first is the clap (clap twice), the second is a rest where we say the word (arms spread) and the third is another rest (arms spread) where the students repeat the word or go for the eraser.
Notes
[
]
When using this game to introduce new vocabulary, it is good to start with only a handful of cards on the board. Go through them initially, explaining meaning and practicing pronunciation. Slowly add new vocabulary as you go. For example, for each new round, add a new word and set that as the keyword.