Kami-shi (香美市), or Kami City, is a city located in Kochi Prefecture, Japan. It is located on the east side of the prefecture, to the northeast of Kochi-shi, the city center of Kochi Prefecture. As of October 2010, the population of the city was 28,772. The city was founded only recently, on March 1, 2006 when the towns of Kahoku and Tosayamada and the village of Monobe were combined to form it. The JET in Kami is placed in Tosayamada, a town which holds the vast majority of Kami's population.
Transportation
[
]
Kami-shi is serviced by the JR Dosan train line. There are two stops in Kami on the line: Tosa-nishimachi Station (山田西町駅), which lies near the border of Kami and its neighboring city Nankoku-shi, and Tosayamada Station (土佐山田駅) which is more centrally-located.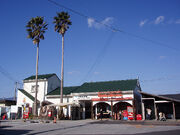 It takes about 30 minutes to get to Kochi-shi on a regular train, and about 15 on an express train.
Tosayamada Station has 3 tracks and is the final stop of many trains heading eastward.
Driving, it takes 30-50 minutes to get to Kochi-shi, depending on the time of day.
Work Life
[
]
As of 2011, there is only one JET ALT employeed in Kami-shi, but there are a few other ALTs from private teaching companies also living in Kami. The Kami-shi JET lives in Tosayamada town and has their home base at Yamada High School (instead of a Board of Education, where many other JETs are located). Past ALTs have also taught 1-2 days a week at neighboring towns' high schools. The JET ALT apartment is located next to a small shrine on a street lined with cherry blossom trees, about a ten-minute walk from Yamada High School.