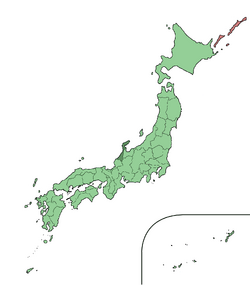 Ishikawa Prefecture (石川県, Ishikawa-ken?) is located on the northern coast of Honshu.
Cities, towns and villages
[
]
The following is a list of places in Ishikawa Prefecture where JETs are placed.
Kanazawa

Hakusan (Mattou)
Komatsu
Kaga
Kahoku
Hakui
Nakanoto
Nanao
Suzu
Uchinada
Wajima
If your home town is not listed, please edit this section and add it to the list!
If your home town shows up as a red link, then the article does not yet exist. To create it, type the town name in the box and click "Create article".
<createbox>
 preload=Template:Local knowledge
editintro=Template:New local knowledge article help text
width=25

</createbox>
External links
[
]