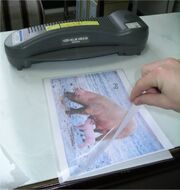 This article will tell you how to make nice flashcards, so that your images will really stand out and be durable enough to use again and again.
Paper
[
]
It's all about quality. Japanese office paper seems to be of a lower quality and thinner than that used in our home countries. The shade of the paper is also quite different and not very good for colour printing. If you can, get hold of some proper white printing paper (it doesn't have to be the glossy photo-quality stuff) and your colours will positively sparkle on the page.
All flashcards should be at least A4 in size. Any smaller and poor 4-eyes Takeshi at the back of the class will not be able to make it out.
Printer
[
]
Use a colour printer. If your school or office doesn't have one, it should. It really is an essential tool if you are going to be able to produce attractive teaching materials for your students. Make no apologies for how much ink you use in making your wonderful flashcards! The kids are worth it!
Note: when you are printing always use the printer's highest quality setting. The printer is usually on a default setting offering a compromise between speed and quality. If you leave it on default then you may find unattractive lines appearing in the solid colours of your images. In the printer options menu, the highest quality setting is invariably "kirei" (きれい).
| ACHIEVE | ACHIEVED |
| --- | --- |
| COMPARE | COMPARED |
| DELIVER | DELIVERED |
| | |
Lamination
[
]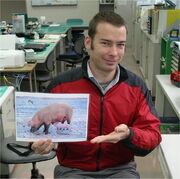 Laminate your pretty printouts with a special laminator machine. Most schools or BOEs have them and if they don't, get them to order one - they're not expensive.
Turn on the laminator and wait for about 10 minutes for it to heat up. Place your flashcards in plastic pouches. Think about whether you want to have two flashcards per pouch (double-sided to save space and weight in your bag) or one per pouch (single-sided so you can display all of them at once on the blackboard). Once the machine is ready feed the pouches in, being careful to line them up straight to prevent creasing.
Making flashcards for Wiki JET
[
]
If you want to make flashcards for Wiki JET, or any website, then you need a picture with the right license. You can use your own, or you can use one from the internet with the right license. You can use a filtered search on flickr or picasa (search for creative commons licenses, under advanced search). This will allow you to use the photos as long as you abide by the license terms - which might be nothing, or something like attributing the work.
Open Clipart and WP Clipart are similar to picasa and flickr, except that all images are free to use, so you don't need to worry so much about licenses. See External links for more.