Hirado city is located on the very norhtwestern tip of Kyushu and has the most western train station in Japan. The city council area is a large area covering many inhabited and uninhabited islands. Hirado City covers Ikitsuki Island, Oshima Island, Hirado Island and Tabira Village.
You'll find Hirado a great place to be in, if you don't mind Japanese countryside. It has nice beaches, lots of cultural sights and nice  communities on the various islands. It is actually one of the better countryside places to be in and not so dull as other places can be. Lots of JETs from surrounding villages and towns come here in their weekends to go to the beach, visit the castle, walk around the historical sights such as temples and museums or to soak in one of the onsen (hot springs). Hirado has a great English website with all the information you need, including downloadable maps, event lists and more, so make sure to check it out. http://www.city.hirado.nagasaki.jp/english/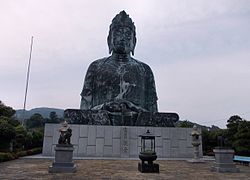 Working
[
]
JET placements

[

]
There are 10 JETs in the Hirado area:
5 Hirado City BOE ALTs: 
- 2 based in Hirado City 
- 3 based in Himosashi Village
All the ALTs have schools across Hirado and some ALTs have to travel to Ikitsuki Island (bridge), Takushima Island (ferry) and Oshima Island (ferry) which are located off Hirado's main island.

1 Nagasaki Prefecture BOE ALT for:
Hirado Senior High School (Himosashi Village, Hirado Island)
Yukokan Senior High School (Hirado City, Hirado Island)

2 Hirado City Planning Division CIRs
Dutch CIR based at the Hirado city hall
Chinese CIR based at the Hirado city hall
Incoming/Outgoing JETs
[
]
For winter 2021 the following positions are changing:
CITY BOE: 3 ALTs  
Foreign community

[

]
For a countryside town the city has a reasonable sized foreign community though not very visible with about 150 foreign nationals registered at the city hall. Most of them are Asian (mostly Vietnamese) and a few American. There are some South- American agricultural students as well. Most of the foreign community does not speak English however.
External links
[
]