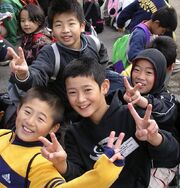 So you're going to be teaching at elementary school (小学校, shōgakko?)? Congratulations on landing one of the most rewarding and challenging experiences on the JET Programme! Everybody knows that Japanese kids have a monopoly on cuteness and you'll get plenty of opportunity to experience that first hand. That's not to say that it will be easy! More than likely you'll be teaching 4-5 classes per day and will feel that you definitely earned your money at the end of the day.
As with everything on JET, Every Situation Is Different but you'll have a bigger teaching role in the classroom compared to JHS or SHS because elementary teachers don't speak English and have no experience of teaching it as a subject. This is great if you've got teaching experience yourself and will allow you to utilise your talents to the full, but can be a bit daunting if you don't have a clue what or how to teach.
Community content is available under
CC-BY-SA
unless otherwise noted.